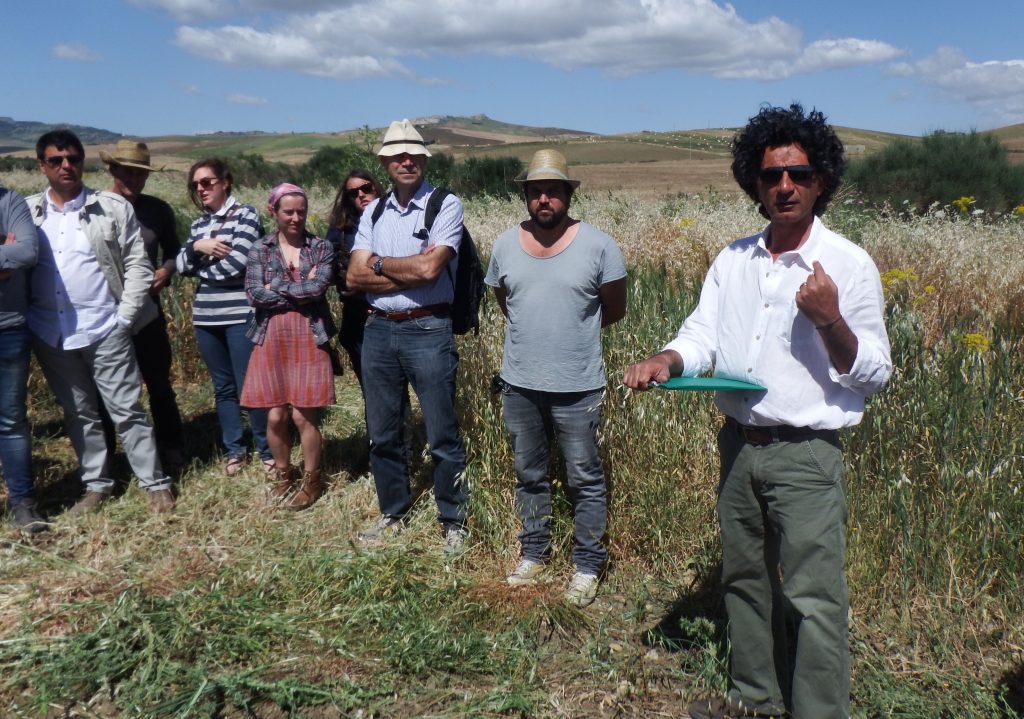 The 21st of May the first Let's Liberate Diversity event of the year was held at Giuseppe Li Rosi's farm, nested on the hills of Raddusa, a small town overlooking the plane of Catania on the East and the Erei mountains on the west. The main activity in this area is farming and this is real durum wheat country. The event was organised by Rete Semi Rurali in partnership with the University of Florence and University of Catania, within the DIVERSIFOOD framework.
Giuseppe Li Rosi farms organically about 300 ha of tillage, mainly wheat (T. durum, T. aestivum, T. turanicum) in rotation with legumes such as chickpea, lentil and clover. Giuseppe has been engaging with growing local varieties for a long time : he's the first Italian farmer to have successfully registred three local wheat varieties (Maiorca, Timila and Perciasacchi) on the national conservation variety list. Since 2010 he has also been experimenting with evolutionary populations of durum and soft wheat. In his experience, the soft wheat evolutionary population (SOLIBAM-ICARDA CCP) adapted extremely well to his area, allowing him to increase average yields from 2 to 3 tons/ha (rain-fed, organic). This year, for the first time in Italy, he was able to register his soft wheat evolutionary population on the national catalogue, thus allowing him to market fully certified seed to other farmers in the region this autumn.
Giuseppe's farm also hosts one of the four main DIVERSIFOOD trial fields located in four different regions of Italy (Piemonte, Toscana, Molise and Sicilia). On Sunday 21st May, about 40 farmers joined the "Let's Cultivate Diversity" event held at his farm. Farmers where asked to evaluate 28 plots of durum and 28 plots of soft wheat, based on what they thought would be a good or poor variety according to their own criteria. The 14 entries for each type of wheat contained cross composite populations, mixtures, as well as local and modern varieties as reference. Farmers were asked to walk along the plots first and identify what they thought would be a good, a poor and an average plot, before starting to score them on the sheet. The passion, interest and curiosity of farmers for this type of activity was truly remarkable.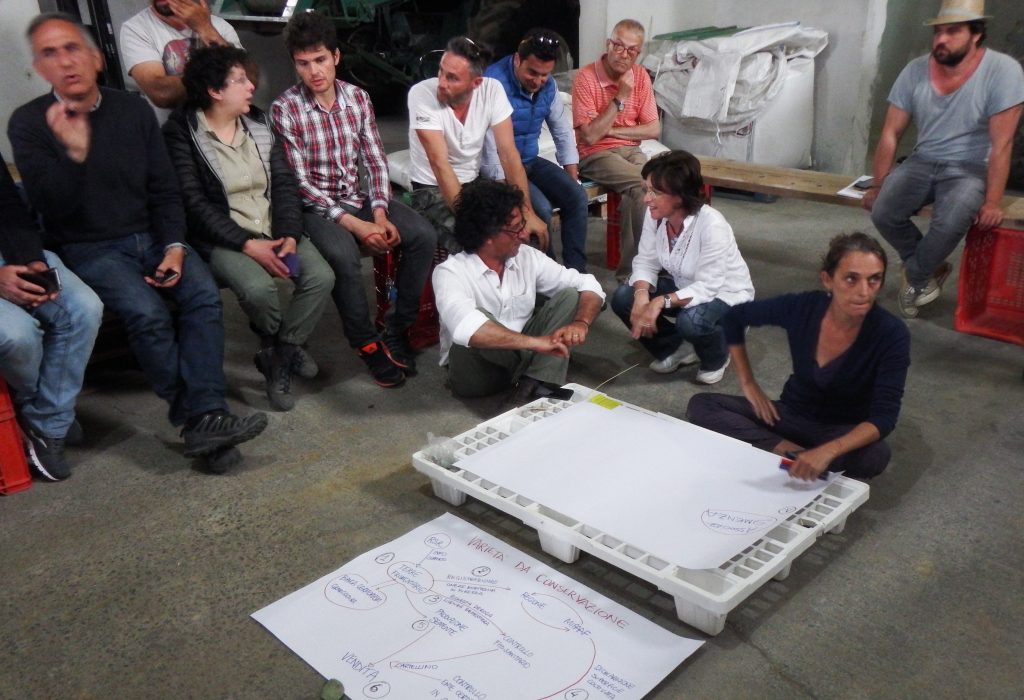 Following the evaluation session in the morning, a focussed group discussion on how to best set up a common strategy for local varieties' seed production and marketing through a decentralised seed network was held. Many farmers were very keen in engaging with growing local varieties, however not everyone was familiar with the normative and bureaucratic procedures involved, or the duties that comes with registering a local varieties and becoming the named custodian (maintainer). Concerns relating to seed quality and plant health issues were raised. The consensus of the group at the end, was that successful implementation of a decentralised seed system for local varieties relies upon a cooperative group effort and that proper maintenance breeding and seed-borne disease vigilance and prevention were crucial factor to ensure its sustainability into the future.