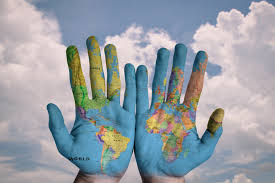 I completed my research study and submitted my Thesis entitled Resource mobilization for climate change, agriculture and food security research through collaborative partnerships. A final reflection from my study is the future of the planet is in our hands and that by working together we can secure the financial support needed to meet (ideally exceed!) the targets of the Paris Climate Agreement.
My research with CCAFS Strategic Research Partners was conducted through surveys and interviews and the study results indicated the potential to form an effective Community of Practice for collaborative resource mobilization on targeted funding opportunities to support CCAFS 2017-2022 research priorities. I identified through my desk research prospective sources of European Union, development finance institution and foundation funding and results contributed to the generation of a EU funding roadmap and top DFI and foundation donor/funder lists as research outputs.
I hope that others will informed by and will build from my research study. Future areas of study that are worthy of exploration include consultancy (fee for service), corporate sector sources of funding, private philanthropy (e.g., individual or groups of donors) and financing mechanisms (e.g., impact investing and PPPs).
I am grateful to all those who have supported my MScCCAFS study including my Thesis Supervisors, Professor Charles Spillane and Dr David Styles from NUI Galway and Dr Bruce Campbell and Anette Engelund Friis from CIAT/CCAFS; Dr Peter McKeown, MScCCAFS Coordinator from NUI Galway;  Dr Andy Jarvis, CCAFS Flagship Leader from CIAT; experts affiliated with CCAFS, including Pramod Aggarwal, Dhanush Dinesh, Angela Garcia, Magdalena Haman, Alberto Millan, Héctor Tobón, Marissa Van Epp and Dr Lini Wollenberg; NUI Galway Plant & AgriBiosciences PhD students, Colm Duffy and Chrystian Sosa Arango; and the CCAFS Strategic Research Partner Focal Points who generously shared their insights and time to contribute to my research. Thank you!