China, an 'emerging' economy has taken a bold step in the right direction by updating its dietary guidelines to include issues of sustainability. As explained in pervious post's – what you eat matters and eating animal products carries a heavy environmental footprint with it [1, 2]. There are many ways to begin the transition to sustainable diets from education, advertising, choice editing by supermarkets to hard policy options like taxes on unsustainable foods and subsidies on alternatives [3, 4]. Another way is through national dietary guidelines.
The Food Climate Research Network (FCRN) recently released a new paper looking at national dietary guidelines that factor in issues of sustainability [5]. They looked at what governments were taking progressive steps to introduce the concept of sustainable diets to citizens. They highlight 4 different countries with official national dietary guidelines that best take account of issues around diet sustainability; Germany, Brazil, Sweden, Qatar. Although not specifically mentioning sustainable diets – each offer recommendations that are concerned about what products are good for health and in doing so have the added co-benefit of addressing environmental concerns.
Only a month or so later after the FCRN publication – China takes a big progressive step and releases its new dietary guidelines that, most importantly, recommend a range, in grams per week, to keep meat consumption to!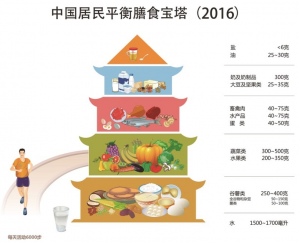 (See links: http://dg.en.cnsoc.org/  | https://www.theguardian.com/world/2016/jun/20/chinas-meat-consumption-climate-change?CMP=share_btn_fb).
The guidelines advise keeping meat consumption to between 40 to 70 grams a day, a slight reduction on pervious guidelines that suggested 50 to 100 grams. The 40 grams recommendation is in-line with the World Cancer Research Fund International which recommends a 'public health goal' of 300 grams per week (apx 43 grams a day) of red meat. (see link: http://www.wcrf.org/int/research-we-fund/cancer-prevention-recommendations/animal-foods)
If every person in China was to take these guidelines on board and transition to lower-meat diets – WildAid suggest it could reduce GLOBAL agricultural emission by 22% a much needed reduction if we are to meet the Paris Agreement 2c UNFCCC target. The report emphasizes the co-benefits for planet and human health and underlines the extensive impact demand-side measures can have on reducing emissions.
Nonetheless, dietary guidelines are of no-use if they are not communicated to the general public, a concern further discussed in the recent FCRN paper [5]. Interestingly, in China, The Chinese Nutrition Society (CNS) has recruited the help of big name celebrities to advocate for reduced meat consumption. The 'Less Meat – Less Heat" video is the first of its kind and it will be interesting to see what impact it has, if any. If researchers find it has had an impact, directly or indirectly, it again shows the power of advertising and marketing, an element that can be a hindrance or assistance in any transitions to more sustainable diets.
See Link to WildAid http://wildaid.org/news/james-cameron-arnold-schwarzenegger-speak-out-reduced-meat-consumption
References (numbered) link: http://www.plantagbiosciences.org/people/sinead-moran/bibliography/