Another Seminal Piece of Work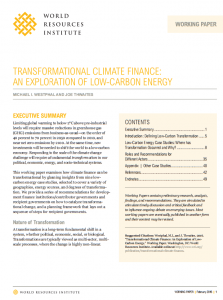 the World Resource Institute WRI) is an independent research institute based out of Washington DC. Its mission is to move human society to live in ways that protects Earth's Environment and its capacity to provide for the needs and aspirations of current and future generation.  It is generally focussed on the sustainable management in the six areas below.
Energy
Forests
Climate
Water
Food
Cities
Anyways, in March of last year the W
RI published a document I consider seminal in the defining transformational change of a sector. While the document mainly focused on low carbon electrical systems, it approached a sector wide transformational change which I felt integrated well with the NAPs programme and my research.
It lists the both the characteristics of transformational change,  while also laying out a critera for examining is a sector experiencing change or if it is transformational. It also critically had a scale to measure the level of change. This is interesting in that it does not simply deal with theories of change but rather seeks examples to which comparisons could drawn from to clarify whether a project is transformational or not.
A link to the document can be found here.
---