MID CENTURY PROJECTION FOR IRELAND NIGHT TIME TEMPERATURE
|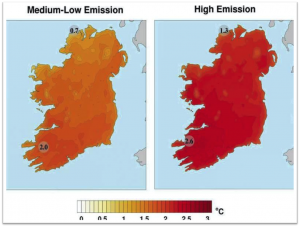 SIX OF THE TEN WARMEST YEARS IN IRELAND SINCE 1990.
A REDUCTION IN THE NUMBER OF FROSTY DAYS.
AN INCREASE IN ANNUAL RAINFALL IN NORHERN AND WESTERN AREAS WITH DECREASE OR SMALL INCREASE IN THE SOUTH AND EAST.
FUTURE ADVERSE IMPACTS MAY INCLUDES,
SEA LEVEL RISE.
MORE INTENSE STORMS AND RAINFALL EVENTS.
ADVERSE IMPACT ON WATER QUALITY.
FLOODING S ETC.
WARMER WEATHER INCLUDING HEAT WAVES MAY,

INCREASE HEAT-RELATED MORTALITY AND DECREASE COLD RELATED MORTALITY.
ALTERING WATER-BORNE AND VECTOR BORNE DISEASE PATTERNS.
INCREASE WINTER SURVIVAL IN SOIL OF PEST AND PATHOGENS.

COLD-SNAPS MAY INCREASE COLD RELATED MORTALITY.

WETTER WINTER MAY INCREASE CONTAMINATION OF DRINKING WATER.