The Indonesian government has several policies that aim to improve national food security. The overarching document that guides much of Indonesia's food security policies is the National Long-Term Development Plans (RPJPN) 2005–2025, which states that "Development and improvement of nutrition should be implemented through inter-sectoral collaboration covering production, processing, distribution and consumption of food with adequate, balanced, and safe nutritional content".
The new Food Law No. 18/2012 is the legal foundation upon which national food security is built. The Food Law No. 18/2012 says that the state has an obligation to provide all citizens of Indonesia with both the quantity and diversity of safe food they need to meet their basic nutritional needs, and that this can be achieved within an Indonesia that is self-sufficient for food production.
The third National Medium-Term Development Plan (RPJMN) 2015-2019—under the RPJPN 2005-2025—contains plans to increase food security, namely through increasing domestic production of crops including rice, maize, soybean, meat, sugar, chili and onion, 2) improving food access and distribution, 3) improving the food safety and nutritional content of the Indonesian diet, 4) reducing and preventing food losses from climate change, natural disasters, pests, and diseases, and 5) improving the livelihoods and welfare of food producers.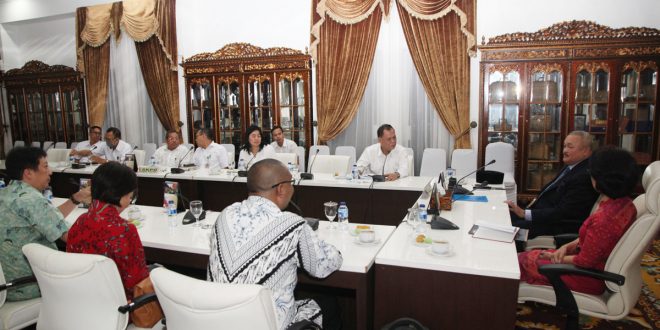 Other national food security polices include the Public Policy of Food Security (KUKP), the National Plan of Action and the Regional Plan of Action for Food and Nutrition (RAN/RAD-PG), the National Movement for Nutrition Awareness, the Rice for Poor Households (Raskin) programme, and the First 1,000 Days of Life Movement. Indonesia did not include agroforestry in their Intended Nationally Determined Contribution (INDC), under the UNFCCC Paris Agreement, and does not currently have any national development plans that directly promote agroforestry.
Indonesia's food policies are somewhat contradictory in terms of achieving a balanced and nutritious diet. They often aim to improve dietary diversity and micronutrient intake, but most put a much stronger emphasis on improving staple crop production and macronutrient intake.  Indonesia should consider food policies that may promote dietary diversity and reduce micronutrient deficiencies, through: subsidising micronutrient-rich foods, taxing micronutrient-poor foods, promoting micronutrient-oriented agricultural research, promotion of school-gardens and homegardens, improving agricultural extension services, engaging with the private sector to reduce the availability of nutrient-poor processed foods, and promoting enterprise development and value addition for micronutrient-rich foods.
Agroforestry can play a key role in achieving several national food security policy targets—most notably diversifying diets, slowing land conversion, and rehabilitating degraded land—but it remains largely ignored in the policies of development countries and elsewhere. Using agroforestry to improve food security can help to achieve other national and international policy targets, particularly those relating to climate change mitigation, and biodiversity conservation.
References:
DKP, KP & WFP 2015. Food Security and Vulnerability Atlas of Indonesia 2015. Jakarta, Indonesia: Dewan Ketahanan Pangan (DKP), Kementerian Pertanian (KP), and World Food Programme (WFP).
FAO 2013. The State of Food and Agriculture 2013: Food Systems for Better Nutrition. Rome, Italy: Food and Agriculture Organisation of the United Nations (FAO).
GoRI 2013. National Nutrition Strategy Paper of Indonesia. FAO / WHO 2nd International Conference on Nutrition Icn 2. Jakarta, Republic of Indonesia: Government of the Republic of Indonesia.
Jamnadass, R., Place, F., Torquebiau, E., Malézieux, E., Iiyama, M., Sileshi, G. W., Kehlenbeck, K., Masters, E., McMullin, S., Weber, J. C. & Dawson, I. K. 2013. Agroforestry, Food and Nutritional Security. ICRAF Working Paper No. 170. Nairobi, Kenya: World Agroforestry Centre (ICRAF).
Jamnadass, R. H., Dawson, I. K., Franzel, S., Leakey, R. R. B., Mithöfer, D., Akinnefesi, F. K. & Tchoundjeu, Z. 2011. Improving Livelihoods and Nutrition in Sub-Saharan Africa through the Promotion of Indigenous and Exotic Fruit Production in Smallholders' Agroforestry Systems: A Review. International Forestry Review, 13(3), 338-354.
Kearney, J. 2010. Food Consumption Trends and Drivers. Philosophical Transactions of the Royal Society of London Series B Biological Sciences, 365(1554), 2793-807.
Kumar, B. M. 2006. Agroforestry: The New Old Paradigm for Asian Food Security. Journal of Tropical Agriculture, 44(1-2), 1-14.
Mbow, C., Van Noordwijk, M., Luedeling, E., Neufeldt, H., Minang, P. A. & Kowero, G. 2014. Agroforestry Solutions to Address Food Security and Climate Change Challenges in Africa. Current Opinion in Environmental Sustainability, 6, 61-67.
Place, F., Ajayi, O. C., Torquebiau, E., Detlefsen, G., Gauthier, M. & Buttoud, G. 2012. Improved Policies for Facilitating the Adoption of Agroforestry. In: Kaonga, M. L. (ed.) Agroforestry for Biodiversity and Ecosystem Services: Science and Practice. Rijeka, Croatia: InTech.