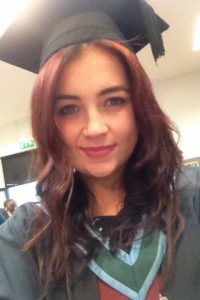 I grew up in Co.Kerry on a beef farm.  I believe it is here where I first became interested in agriculture.  When I began the MSC Climate Change, Agriculture and Food Security course at NUI Galway, I became interested in the impact farming is having on the environment, so it seemed only natural to accept the project with Mountbellew Agricultural College, in calculating carbon emissions on Irish farms.
Before beginning the MSc CCAFS programme, I graduated with a BSc from the National University of Ireland, Galway. During the course of my studies, microbiology subjects included Food and Industrial, Environmental, Immunology and Recombinant Techniques, and Microbial Infectious Diseases, to name a few.  Botany and Plant Science modules included Current Topics in Algal Research, Current Topics in Plant Science, Palaeobotany and Climate Change, and Plant Genetics, Cell and Systems Biology.
My most recent work experience in a laboratory is when I worked for NUI Galway as a lab demonstrator, helping out with the 1st year student labs. As part of this job, I demonstrated lab practices, arranged lab equipment, as well as critiqued day books. Part of my experience also includes the 7 months I spent in the Genetics and Biotechnology lab working on my thesis, achieving a 2:1 grade. Here, I was able to learn sterilization practices, as working in a sterile environment was necessary for the work I was undertaking.