Introduction To My Research
Introduction to my research
As part of my research I will be co-supervised by Niall Farrelly from Teagasc and by my lecturers Dr. Peter McKeown, Professor Charles Spillane and Kevin Kilcline from NUIG. They have been providing us in the CCAFS masters program with guidance on our research and facilitating co-supervision with parties outside of NUIG.
My research involved looking at the occurrence of frost days in Ireland and how this is changing as our climate changes and establishing whether we are seeing an increasing or decreasing frost risk. This was done by analysing daily minimum temperatures (≤ 0 °C) from selected weather stations throughout Ireland that provide information on daily temperatures from 1960 to 2017. I also studied the changing precipitation patterns in Ireland over the period 1957-2017 by gathering data of the monthly rainfall recorded at individual stations across Ireland.
The research was undertaken to study the frost risk and probability of frost in different regions throughout Ireland. The research will be looking to identify areas with the lowest risk of frost to help locate the best areas for tree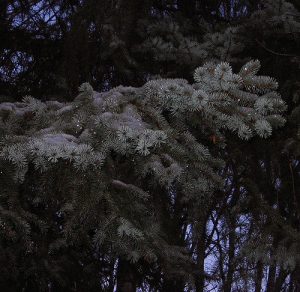 plantations for Sitka spruce but also look at the possibility of introducing new species. The research will also look at changing precipitation patterns and determine whether we are witnessing an increase / decrease in precipitation. From the data gathered Forest Climatic Zones were created based on the requirements and physiology of Sitka spruce as it is the most important commercial tree species in Ireland.
After all the data was gathered from weather station locations, using GIS I created maps showing frost risk, precipitation patterns and  created a basic map showing forest climatic zones for Ireland.
.
---