At the Salón del Cacao y Chocolate in Lima
|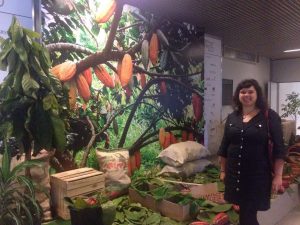 (copyright N.Markiefka)
Last weekend Peru celebrated Cacao and Chocolate with four days of exhibition at the convention center in Lima. The exhibition featured Cacao producers from different regions in Peru and also Chocolate makers. Beside that there were many workshops and demonstrations of the use of chocolate in gastronomy. Famous cooks and chocolate makers gave tips and tricks on using chocolate in innovative culinary ways. For those who wanted to get more into the industry side of things there was a series of conferences with a panel of experts that discussed the possible pathways of development of the Cacao industry.
I participated in a conference that was about  Climate Smart Agriculture in the Cacao sector. The panel of experts which held short presentations of their area of expertise consisted of an economist, representatives of the cacao chamber of commerce, from a development bank and also from a green development fund. Oddly enough there were only male persons in the panel and in general themes of gender didn't seem to be part of the discussion. Which in my opinion is very lamentable as there are many women producers in the Cacao industry and they lack support and rights.
The discussions were kept very general when it comes to Climate Smart Agriculture. The panel agreed that Agroforestry should be the main producing system without getting into many details. They biggest concern was about the financing of CSA. The representative from the development fund suggested that it should be a joint effort between the private sector and the government as the main producers are small scale farmers with less than 1ha of land. Governmental support is essential to achieve scale in Peru and the future will show how the new government will address that. They also pointed out the importance of cooperatives but in the cacao sector only 40% of small scale farmers are organized in cooperatives, mainly because they cannot comply with the necessary regulations. Often because of gender related problems. It seems like rules have been made to comply with international market standards but without really taking into account the challenges and obstacles of the small scale farmers and thus making it hard for them to join a cooperative and access international markets.
I came out of the conference feeling that I did not learn so much more and that these discussions were not really tackling the problems. They were scratching on the surface and it seemed more like showcasing different people and companies.
I continued my stroll over the exhibition by watching a fashion show with clothes made of chocolate and some other cooking demonstrations. The best part was to talk to farmers from different small cooperatives, especially those made up from women to support each other, to taste their chocolates, buy some beans and get inspired buy their love of Cacao. At the end of the salon there was also a competition for the best chocolate of the year which honored the efforts of  producers to create competitive chocolate products.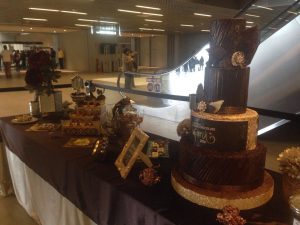 (copyright N.Markiefka)
More on:
www.salondelcacaoychocolate.pe
https://www.facebook.com/salondelcacaoychocolateperu/
A great book I bought that tells the story of Cacao in Peru which has scrumptious looking recipes from famous cooks!
And it's written in English and Spanish!!